Die casting is a kind of precision casting method which uses high pressure to force metal molten into complex metal mould.The molds—also known as tools or dies—are created using steel and are specially designed for each project.The die casting is include high pressure die casting(HPDC),low pressure die casting(LPDC),Squeeze casting,gravity(GDC),and EMP is specialized in high pressure die casting,which is most common used for automotive,telecommunication,industrial etc.
Die Casting Advantages
Compared with many other manufacturing process,die casting have advanced advantage,which could fabricate effective cost part and high output.
1) Good product quality. Because of the rapid heat conduction and metal cooling of the die-casting mold, and the crystallization under pressure, the casting has fine grain structure, solid surface, which improves the strength and hardness of the casting. In addition, the size of the casting is stable and the interchangeability is good, so the thin-walled complex parts can be produced.
2) High productivity and tighter tolerance
3) Good economic benefits. The processing allowance of die castings is small. Generally, only finishing and reaming holes can be used, which saves a lot of raw materials, processing equipment and time.
Die Casting Alloys
The common used die casting alloy are Zinc, aluminum, and magnesium,Not only can die cast alloys withstand high operating temperatures, but they are also fully recyclable.Die cast alloys also have:
Excellent mechanical properties
Good fluidity and filling

Lightweight

Generally good corrosion resistance.

Very good strength and hardness

Precise dimensional accuracy and stability.

Fit with surface finishing
Aluminum casting alloy have the advantages of low density and reduced quality can be produced,High strength and good plasticity,good anti-oxidation and corrosion resistance.
Die Cast Process
Die-casting machine is generally divided into cold chamber die-casting machine and hot chamber die-casting machine.
Cold chamber die-casting machine is divided into horizontal die-casting machine and vertical die-casting machine according to its chamber structure and layout.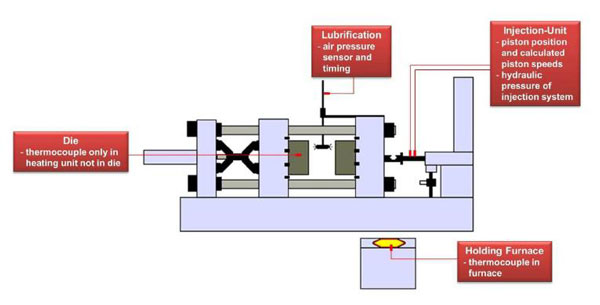 Below is the flow chart for the high pressure die casting process:raw material-melting-die casting-degating-deburring-trimming-shot blasting-CNC machining-leak test-cleaning-full inspection-packing-delivery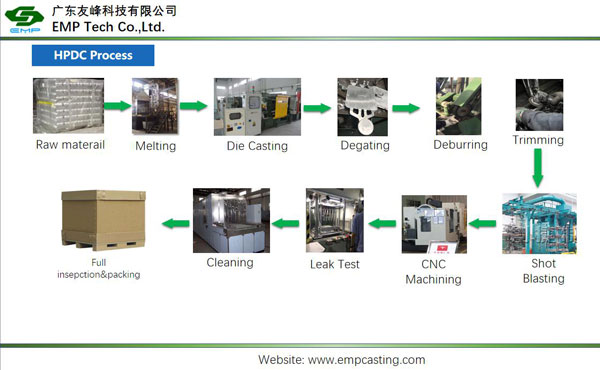 Die Casting Comparison
1.Process characteristics comparison
| | | | | | | | | | |
| --- | --- | --- | --- | --- | --- | --- | --- | --- | --- |
| Casting Process | Process | Tooling Cost | Tooling Life | Porosity | Heat treatment | Allowance | Surface cleaning | Part | Productivity |
| HPDC | Complex | High | Short | Poor | No | Small | High | Thin-wall | High |
| Squeeze Casting | Complex | High | Short | Good | Yes | Small | High | thick-wall | High |
| GDC | Simple | Low | Long | Good | Yes | Large | Low | thick-wall | Low |
| CPC | Simple | Low | Long | Good | Yes | Large | High | thick-wall | Middle |
| LPDC | Simple | Low | Long | Good | Yes | Large | Middle | thick-wall | Middle |
2.Mechanical Properties Comparison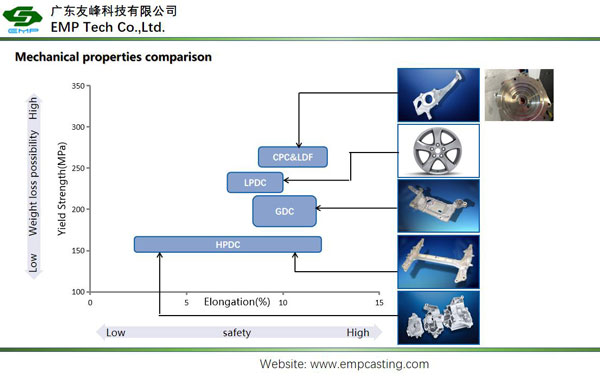 EMP Die Castings
EMP is a global manufacturer of both aluminum die casting components.All of our engineer provide technical design for a variety industries,such as industrial,automotive,electronics and so on,they can help our customers to design the tool and develop the product for mass production.Contact our engineering team to request a quote today.